Social Media in France
Reading time:
3
minutes
E-commerce on social media
Social media were created to connect people through social interactions. In the past few years, the number of users on social media has increased. They are used daily which makes them very interesting for compagnies.
Social media have become a powerful channel in the e-commerce world, which is constantly growing. Shoppers go on social media to find inspiration for their next purchase, so being active on this channel has a positive influence on your notoriety and visibility. But on which social media channel is it most interesting to communicate for your company?
There are hundreds of different social media platforms around the world. Some of them have become international like Facebook, others stay popular locally, like Xing in Germany or TENCENT QQ in China. What about the French market? On which social networks does your target audience spend its time?
Audience of the French social media
Even if France is the country where social media are used the least in Europe, France remains an interesting market with a large audience to exploit. France has 38 million active users on social media, that is 58% of its population! It is therefore good for your notoriety to be present on French social networks if you want to conquer this market.
But don't run headlong into campaigns on all social media channels! Study your target, and only when you have determined it, choose on which social media you should be on. For example, Snapchat and Instagram have a younger audience while LinkedIn is more used by professionals, which makes it great for B2B campaigns.
You can find below the social network audiences in France in 2018.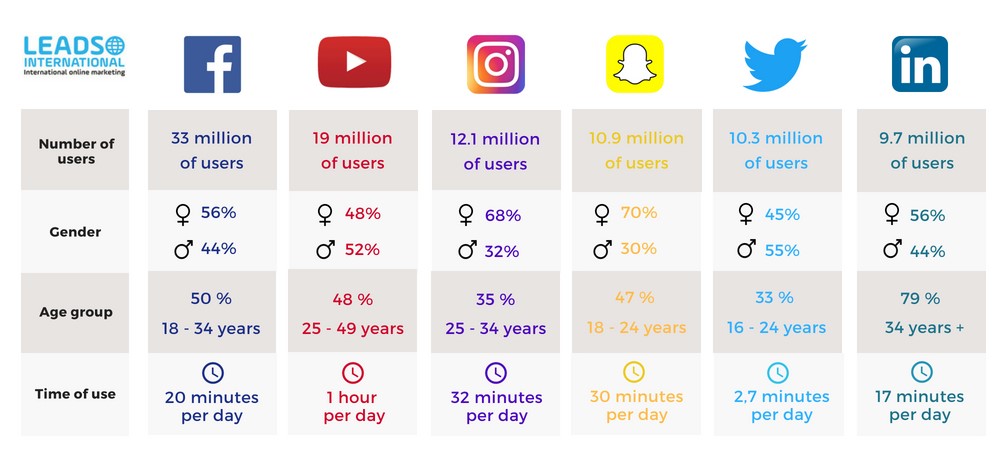 Social media in France vs. the Netherlands
The audience of social media in France is different from other markets. Let us compare it with the Netherlands, for example. There are two main differences between these two countries.
First of all, in France, Facebook is the first social media used by far. In the Netherlands, Facebook is second behind WhatsApp, the instant messaging (Not represented in the French audience because WhatsApp is in the 6th position in France). This platform, already optimized for Dutch companies, has only started its professional development in France since the beginning of the year.
The second difference that can be noted is the way LinkedIn is used. French internet users are not very active on this professional platform, only 14.4% of the population uses it. While in the Netherlands, 25% of the Dutch population has an account.
If you want to boost your brand visibility, generate more traffic and boost your conversion rate, study your target market before starting your campaigns on social media. Remember that it is important to be present where your target is.
Tips :
Gaining their trust: although the French people spend more than an hour a day on social networks, the majority of them are wary of the information diffused on these platforms and 40% are worried about the security of their data.
Change your ads often, in order not to make your post boring.
Test different audiences to find yours.
Optimize your ads for mobile, there are 31 million active users on social media on mobile
Do you want to conquer a new market but you don't know which social media channel to focus on? Our international marketers can help you find the right channel!