The importance of local marketing
Reading time:
3
minutes
Local marketing used to be seen as just a marketing opportunity for the smaller businesses such as restaurants, shops and outlets. These smaller companies are mainly dependent on the local customers, which makes the use of effective local marketing a must for their business. However, nowadays even the larger companies can get a lot out of using local marketing to reach the right target group. Targeted use of local marketing can lead to an increase in both your online and offline sales.
Google research shows that over 80% of internet users use local search terms. The study also shows that the use of a local search term is more likely to lead to conversion. When a local search is made on a smartphone, at least 18% of the users purchase, compared to 7% who purchase with a non-local search.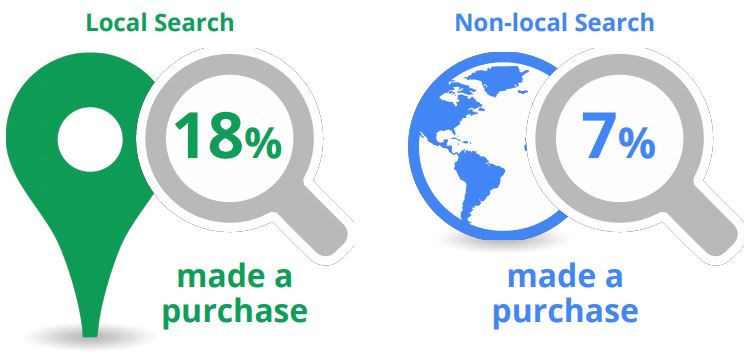 It also speeds up the purchasing process.  45% of the people who had carried out a local search took action (purchase) within 24 hours. In addition, location-based advertising increases store visits and purchases by 32%.
That sounds good, doesn't it? But how do you actually use that local marketing? A well picked combination of multiple marketing channels is the key to effectively reach your local target group.
First of all, it is very important that your website is designed for the local public. Make sure your website is informative, user-friendly and up to date. Offering the right contact and address details, opening hours and an up-to-date offers on your website are crucial. To further increase your reach to local audiences, make sure all this information is also available on all your social media channels.
Of course you also want to be found locally. For example, a painter from Tilburg wants to be at the top of search engines when searching for 'painter in Tilburg'. By combining localized ads and keywords with targeted and local targets, you ensure that you are found by your potential customers in the region. Furthermore it's good for your local branding to be present on the local magazines, websites and directories.
In the area of international online marketing, local marketing is essential. Regardless how strange that may sound. Each country has several regions, each with its own culture, dialect, customs and traditions. Think of Switzerland, for example, where three different languages are spoken, which naturally brings the necessary cultural differences with it. By localizing your marketing, you can respond to the needs of your target group and reach them in the way they want.
In order to reach potential customers with a high conversion potential, local marketing is the ideal option for your business. Leads International specializes in (international) local marketing and can support you in reaching your local target group. Contact us!