The countdown to Black Friday has begun!
Reading time:
3
minutes
Only 3 more days…
Black Friday has been an important phenomenon in the United States for decades – since 1952. Everyone knows the images of hectic, turbulent and rather aggressive scenes of people snatching things out of someone else's hands. These special – for us – amazing scenes take place every year on the day after Thanksgiving.

Well when it comes to bargains, people suddenly show themselves from a completely different side! But it doesn't stop here, good bargains are borderless. That is why European shops are massively adopting this American 'tradition'.
But what about Europe? And more importantly, is it useful that you as an entrepreneur do something with this 'holiday'?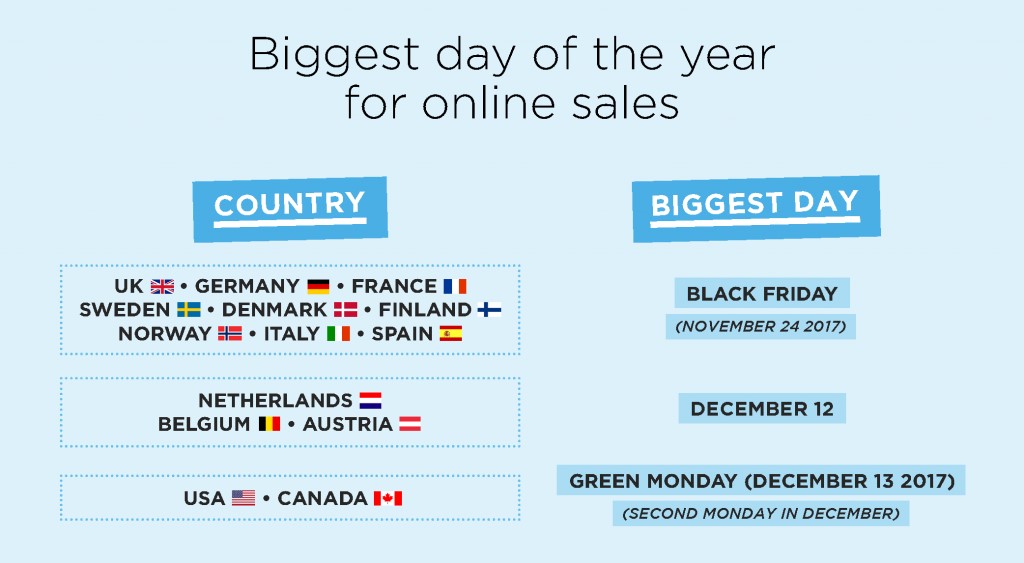 YES! You should! The interest in Black Friday is growing across most of Europe and it is becoming more and more popular. Last year, European consumers spending more then ever and the expectations for this year are really promosing. The European statistics of 2017 shows us that the revenue of Black Friday until Cyber Monday increased by more then 50%, the orders with more then 30% and the average order value by 15% (CJ Affiliate – Black Friday Period: European consumers spending more then ever – Dec 2017). So, if you can really offer a good sale, you certainly don't want to miss this day!

Tips for you – as an entrepreneur – for a successful sale during Black Friday…
√  Start promoting your offers early.
√  Make sure your website is on as many dealsites as possible.
√  Increase your reach to an international audience. As you can see, bargains are borderless.
√  Make sure you have good deals that are actually too good to miss, a 10% discount will not be appealing enough for the bargain hunter during Black Friday.
√  Use social media: #BlackFriday can increase visibility up to 200%.
√  More than 90% of online shoppers compare prices before buying. Use countdowns and urgent action buttons to entice consumers to buy fast.
Good luck with the sale. And let it be a great start for the end of 2018!
Tips for you – as a (small) spender – for succesfull deals on Black Friday…
√ Sign up for newsletters to stay informed about the bargains. As a loyal customer you . Als loyale klant krijg je vaak ook meer privileges.
√ Stay at home and shop from you couch of from you bed, much more comfortable than lugging a big television on the street.
√ Make a list of what you really want and focus on the websites that go with will have it.
√ Some retailers are starting Black Friday early to be ahead of the competition. So don't forget to be sharp from the start!
Succes in getting the best deals and have fun with your new purchases!

Sources:


Vouchercodes - www.vouchercodes.co.uk/blog/british-shoppers-set-to-splurge-7-8-billion-on-cyber-weekend-26500.html - November 2017


Fierceretail - www.fierceretail.com/digital/black-friday-spikes-europe-over-500 - December 2018 


The Local Denmark - www.thelocal.dk/20171128/black-friday-2017-was-denmarks-biggest-ever-shopping-day - November 2017


The Local - France - www.thelocal.fr/20171124/how-the-french-have-converted-to-black-friday - November 2017


DW - www.dw.com/en/black-friday-is-not-coming-to-germany-its-already-here/a-41498238 - November 2017


Teezily - blog.teezily.com/newsroom/black-Friday-cyber-Monday-tips-to-maximise-your-sales/ - November 2017


Black Friday - black-friday.global/ - 2018