If you block me, I'll block you.
Reading time:
4
minutes
Ads. If you are an eager user of the internet, you will have seen them. They are on search results, they appear on websites, in your Facebook timeline and when you scroll through your Instagram profile. Ads are used by businesses to promote their products and services and to reach their (potential) clients.
In the past, if you wanted to block the ads on you TV, you simply went to the bathroom, while the commercials were running. Nowadays with computers, that's where adblockers come into play.
Adblocker grow exponentially
However, the reaction to all the ads might not be what businesses were hoping for. More and more users download extensions and apps to block these ads.
In countries like Great Britain, one fourth of the users had downloaded an adblocker at the beginning of 2018. In Germany the percentage nears a third of all internet users. And the tendency is on the rise. These numbers are all but good news for advertisers and companies.
It seems that the statistics published up to now have been lower than the actual number. In fact, it seems that the actual number is more than double, as the magazine ONEtoONE states.
This crisis, even though it still mostly affects laptop and PC users, is also growing rapidly on smartphones. An average of 15% at the end of 2017 and significantly higher in Asia. Especially internet savvy users are keen on an ad-free experience. But they are by far not alone.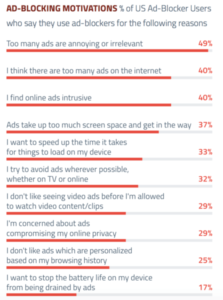 Marketingland.com
Adblockers grow with the wallets
Particularly frustrating for advertisers is that especially people with higher income are more likely to install an adblocker and, thus, avoid all kinds of ads during their online experience. If we look at the numbers, it is mostly those individuals with a net income of 7500€ and up that prefer to be left "ad-free". In fact, up to 64% of these people avoid viewing any type of ads. But it is exactly those people who would be really attractive for most businesses.
A few numbers…
In the first half of this year, Statista shows that 42% of British users won't ever view any type of display ads. In Germany it is a 45%, in France a 43% and in Italy a 39%. If you think about it, half of all the display ads that you are placing as a part of your SEA campaigns will never reach any eyeballs.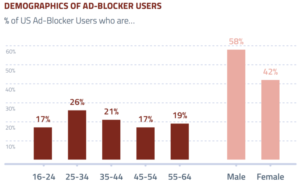 Marketingland.com
A glitch in the matrix
It is, though, exactly this particular group that would be incredibly interesting for brands. It is people with a higher income and higher education that decide to block more ads. Just as well as younger generations are more prone to install an adblocker, rather than their grandparents.
But why do people want an ad-free internet experience? Most people state that they would rather not be interrupted by a random ad, whilst their research or overall surfing experience. This reason seems to have shifted from the initial privacy and security concerns people stated as a reason for installing the adblocker in 2014.
The recent scandals regarding Facebook and Google won't invert the trend, it seems. Dr. Johnny Ryan, the head of ecosystem at PageFair says:
"[…] But now [ad blocker usage] has grown to a broader demographic for whom [an ad blocker] is closer to just a remote control. The genie is out of the bottle and if the industry had taken privacy and data protection seriously this might not have happened."
The Adblock wall
But how can websites or companies resolve this growing trend? Some pages have adopted the solution of the so-called Adblock wall. In this case, the user is blocked from viewing the content of a certain website, unless he or she disabled the adblocker. The results, however, are far from what were hoped for: Over three quarters of the users using an adblocker installed said that they would simply leave the website rather than whitelisting it, as requested.
As a result, the company may reply that their conversion rate is at 40% or 50% thanks to this strategy. That might as well be the case, but at the cost of shooing away a 75% or more of its potential customers.
Land in sight?
Now you may ask, "OK, this is all interesting and all, but it seems that I should just quit ads overall?!?" Well, it's not that simple. What you could do, is try to figure out why your target group installs an adblocker, what the problem is and how you can fix it.
Take Facebook, for example. They tweaked their technology in such a fashion that adblockers would not work on their website. They surveyed their users and researched what type of content each individual was looking at. Accordingly, they gave their users more control over the types of ads they were able to view. As Facebook explains, they have managed to offer a better experience to their users.
So to sum it up: We can't guarantee that adblockers will cease their exponential growth, but we can assure that by putting the customer in the centre, you won't suffer the consequences. If you know what your customers are looking for and you can make sure to offer the right product to the right people, these people will thank you (read: Pick you as their provider).