Dmexco 2018: What you missed…
Reading time:
6
minutes
It was that time of the year again! The most important marketing event on the digital calendar! The week that driven marketers, media professionals and pioneers in tech have been looking forward to for a long time. The moment when the dynamic world of digital marketing, media and technology comes together to meet each other live in Cologne, Germany.
Every year the DMEXCO grows bigger and this year was no exception, with more than 1,000 exhibitors from 39 countries and almost 600 speakers, everyone got the opportunity to increase their know-how, share their own experiences and expand their network! And I was again able to use that limited time well.
Trending topics: AI, (and the effects on voice search, chatbots, digital assistants) and blockchain.
Artificial Intelligence
It's true that AI can transform the world – but only if we democratise it. We have to make sure that everyone with good ideas can access it – not just companies with millions of dollars to invest | Axel Steinman – VP Bing Advertising Sales EMEA
The central topic this year was Artificial Intelligence. Where last year it was even more of a buzzword at the Dmexco, you see the investments in AI continue to increase and it is now really seen as a technology which is of great importance to our economy.
From handy personalized recommendations from Netflix and Spotify that we all enthusiastically click through, to the massive adoption of voice assistants like Siri and Google Now, Artificial Intelligence is playing an increasingly important role in the busy lives of consumers.
Baidu (the Chinese version of Google) is one of the largest progressive Artificial Intelligence companies in China. Alex Chen, (vice president of Baidu) showed how AI can make our lives a lot easier and more practical (voice assistants / self-propelled vehicles / recognizing diagnoses and diseases). "We have reached a new era of internet advertising. The next generation of artificial intelligence is reinforcement learning. This will triple effectiveness in advertising" says Chen.
Blockchain
"I would encourage everyone here if you are a business leader. If you don't have a blockchain strategy, you need to start now. It doesn't matter if you are not a financial firm, every company needs to be thinking about this, in the same way that every comapny needed an internet strategy in 1995". | Alex Tapscott – Co-Founder, Blockchain Research Institute; Co-Author, Blockchain Revolution
It's innovative, it's promising, it's groundbreaking, it's complex and it's something that can change the world. These are exactly the terms we, marketers, love.
– Evolution of marketing 2018 –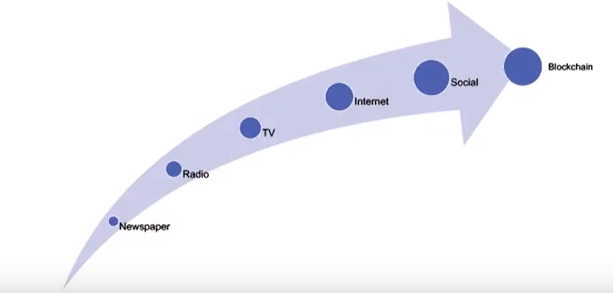 This year there was a great demand for clarity behind the Blockchain invention. Blockchain (originally the data structure behind the bitcoin network) is a technology that has the potential to fundamentally change the world and our lives, just as the computer and the internet (the first digital age) did. Tapscott is not talking about the 'fourth industrial revolution', but about the 'second digital age'. Companies like Uber and AirBnB are very successful because they own a lot of data and collect, analyse and apply it in a smart way. But with the blockchain revolution, it is the individual user who has the power.
– Showstoppers: why blockchain could fail? 2018 –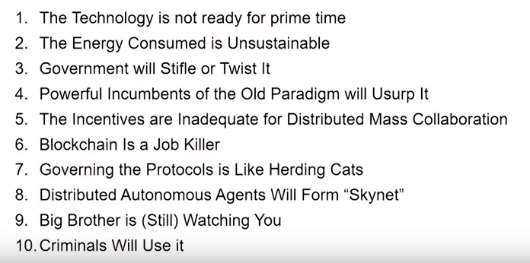 When it's going to change the world is still a big question.
For now there are still a lot of showstoppers to be overcome
(Tapscott – Co-Author, Blockchain Revolution).
International online marketing
With so many international inspirers, surprisingly enough there were not many marketing gurus that addressed the international aspect of online marketing. This also has to do with the fact that it is becoming more and more 'normal' to explore the boundaries and go beyond them. But I see that there is still far too little local thinking and acting so that a lot of potential remains unplucked. With a good local strategy, the Euros (bitcoins) will be flowing in. So I do see a big opportunity for us here at the Dmexco 2019! 🙂
Still, I have gained some interesting international key takeaways for you that you should take into account:
*  From GAFA (Google, Apple, Facebook and Amazon) to BAT (Baidu, Alibaba and Tencent). China is
"The Big Innovator" in the next 10 to 20 years. (Peter Würtenberger – CEO of UPDAY for SamSung).
It is the fastest growing internet nation worldwide. Now around 20 years in the marketplace,
Alibaba generates more than twice as much revenue per year than Amazon and eBay together.
* Not only the huge market size (1.4 billion) makes China a really interesting target group for you as an
entrepreneur. The convenience that this brings with it is certainly worth considering. For example, to
reach the entire European population (a population that is 2.5 times smaller than China), you have to
offer no less than 22 different payment solutions and then you have only 80% of the market. In China,
this counter is added up to 1 payment method – WeChatPay (Tugce Bulut – Founder & CEO StreetBees).
* It is now much easier for companies to expand internationally, because costs have dropped. You don't
always have to do it market by market. (Philipp Justus – Google). 
* Programmatic advertising is booming in Europe. In 2017, 12 trillion Euro were invested in programmatic
advertising on the European market (in 2013 this was 2.3 trillion Euro). Marketers want more control and
more transparency. In Europe, you can see that companies take more control by hiring more in-house professionals.
It will be more a collaboration between companies and marketing agencies, where the marketing agencies will be
used for consultancy (Simon Halstead – IAB Europe).
Dmexco tips 2019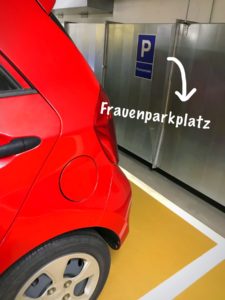 Repeatedly I tell our customers: The market of the Germans is so different from your own.
I had not yet made my entrance on the Dmexco, when I was immediately confronted
with the differences. A parkingspot only for women, why? Take all those differences into
account when conquering the German market!
It is and remains a German event. At such an influential, international conference, many presentations
are given in German and exhibitors like to communicate in German. In the online world this is becoming more
and more personalised and the data can be used 'as if you speak their language'. But for now: learn a word or
two of German or take someone with you, who is proficient in the German language.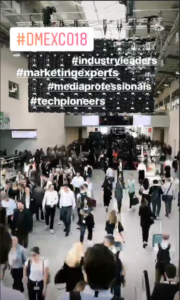 Embrace German efficiency! Arrange appointments of 30 minutes and save the small talk for happy hour.
To make the most of the power of the event, it is a good idea to be well prepared. It looks bigger
and busier every year, so outside the meetings and conferences, take one of the many maps and
leave some space for discovering new pearls/companies. Note to myself: No matter how busy it
is in my digital agenda, next year I will certainly use the two full days for this inspiring event.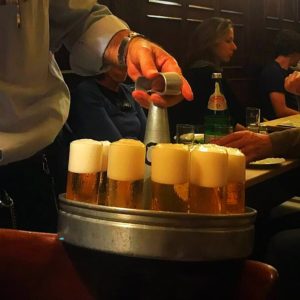 During such an event you should of course stay hydrated, because talking about business
the whole day certainly makes you thirsty. So end the day with a real Cologne Kölsch
#workhardplayhard!